Auction Sales
The friendly yet professional atmosphere is conducive to capturing the highest bids possible for your property
Widely used in today's real estate market but generally misunderstood, auctions work if employed for the right reasons. Having sold a large number of properties using all methods of sale, we have the experience to discern when, and if, the auction method is appropriate for you. Just imagine a room filled with qualified bidders vying to "win" your property.
From development and implementation of an extensive marketing program to the coordination of property tours and the auction event itself, DK Realty Partners' auctions turn a "buyers' market" into a highly lucrative sales event. Our auction event team has a dynamic personality that encourages bidding. The friendly yet professional atmosphere we create is conducive to capturing the highest bids possible for your property.
---
Contact us for more information on Real Estate Auctions
Featured Property
The Featured Property is updated weekly, please check back often.
LAND FOR SALE
OVER 3 ACRES WITH
MANY PERMITTED USES
Mundelein, IL (Lake County)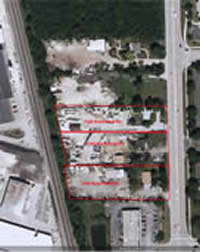 Zoned C-3, Commercial District

Highly visible location at Rt. 60 & Butterfield

Daily Traffic Count: Approx. 25,000 vehicles
CONTACT:
Paul G. Demik
(847) 397-8900 x217