Negotiated Sales
DK Realty Partners provides the expertise and action
In any negotiated sales campaign, two crucial elements must be satisfied to achieve success. First, the asset must be extensively exposed to the marketplace through such means as creative advertising, well-placed public relations and professionally-designed marketing materials. Secondly, the selling team must employ negotiating skills to not only obtain the best price and terms, but to commit the buyer to the transaction in writing and with sufficient earnest money.
Therefore, it is extremely important that a company have a staff of seasoned professionals who fully understand the delicate relationships that exist between buyers and sellers and the motivational factors that will cause them to perform. DK Realty Partners provides that expertise and action.
---
Contact us for more information on Negotiated Sales
Featured Property
The Featured Property is updated weekly, please check back often.
LAND FOR SALE
OVER 3 ACRES WITH
MANY PERMITTED USES
Mundelein, IL (Lake County)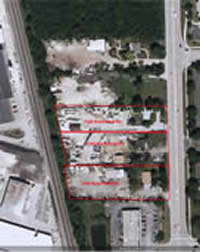 Zoned C-3, Commercial District

Highly visible location at Rt. 60 & Butterfield

Daily Traffic Count: Approx. 25,000 vehicles
CONTACT:
Paul G. Demik
(847) 397-8900 x217