Sealed Bid Sales
DK Realty Partners has perfected a system that effectively increases competition level among bidders
Although marketed similarly to the live-call auction, the manner in which prospective buyers tender their offers (through sealed bids due on a specific date) changes the dynamics of competition. Without the knowledge of what others are bidding, the prospective buyers are compelled to submit a realistic, "winning" bid.
Through years of hands-on experience, DK Realty Partners has perfected a system that effectively increases competition level among bidders, which results in higher sales prices.
---
Contact us for more information on Sealed Bid Sales
Featured Property
The Featured Property is updated weekly, please check back often.
LAND FOR SALE
OVER 3 ACRES WITH
MANY PERMITTED USES
Mundelein, IL (Lake County)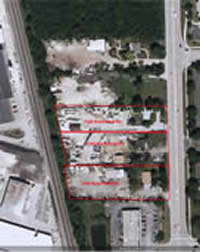 Zoned C-3, Commercial District

Highly visible location at Rt. 60 & Butterfield

Daily Traffic Count: Approx. 25,000 vehicles
CONTACT:
Paul G. Demik
(847) 397-8900 x217